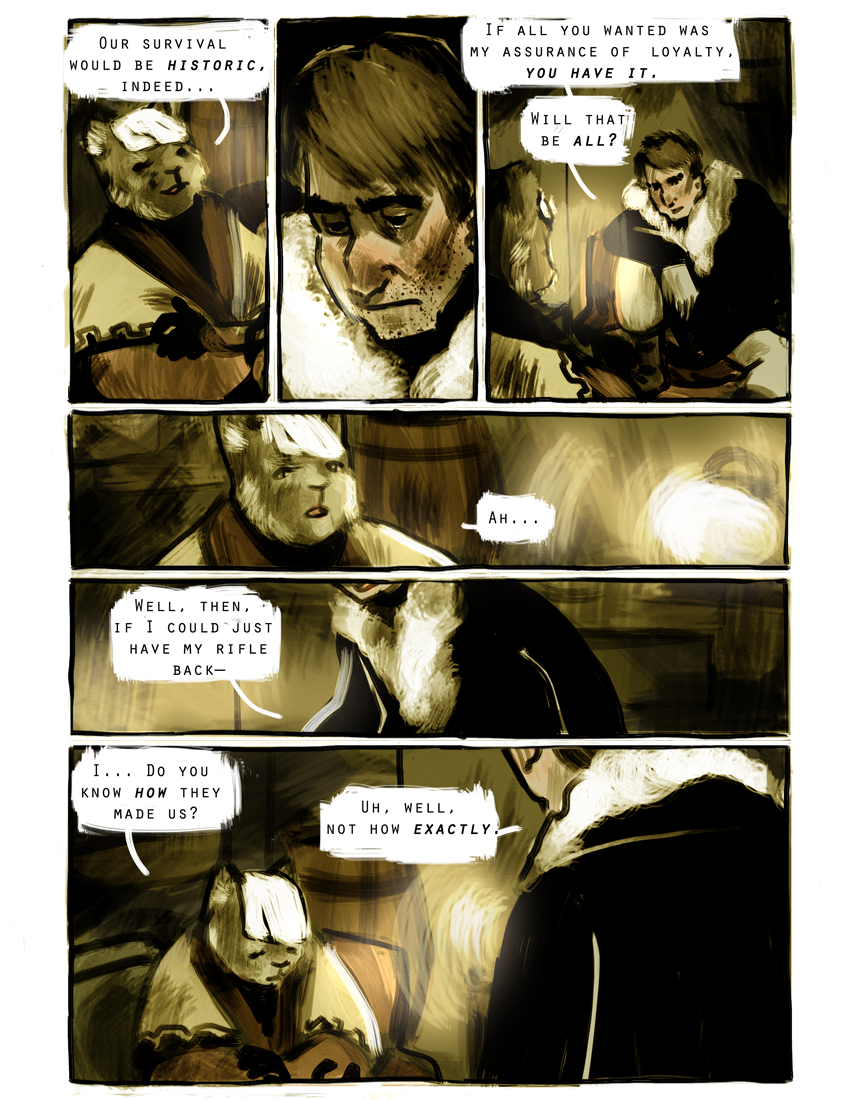 That's not a total promise, but we'll certainly try while we also build stock to keep posting two a week for as long as possible in the future. So remember to check back one more day a week if you're enjoying the comic.
It's been a while since I've posted here, though VC has chugged along on Tuesdays for a while now. With Summer coming up, we'll have more time for the comic, and next week we'll be returning to a Tuesday-Thursday schedule for the time being. Until then, I've given substantial updates to the Cast and Datapedia pages.
We're taking it easy for a couple weeks to build up our stock of pages again, just a quick notice.
To our readers, the first act of Valice Chronicles has ended. Next week we will have a couple special pages before Act 2 begins (next year!). Thanks for sticking around!
Meedee will be busy working on more VC pages this week while Buster shares some rotten turkey he found on the ground with the cat people. See you next week!
We're starting a fresh world called Eldsparse.
It's an old world that has crumbled and been rebuilt many times. Science and technology mix with an older world of magic, so the theme is sci-fi/fantasy. The plan is to mix old stone buildings with modern ones and everything in between. I will eventually construct a Valice structure here and possibly create further lore.
Right now this world is in its infancy. For 1-2 weeks it will be in creative mode as the main city, Eldsparse City, is being created. The current border only extends within the city's area. We will then switch to survival mode and expand the border greatly. This is a chance to join and build the foundations of this large area. As before we have a Dynamic Map on the site, in the Minecraft section.
Address of server: ohfrack.shack.nu
Request White Listing (just drop your name)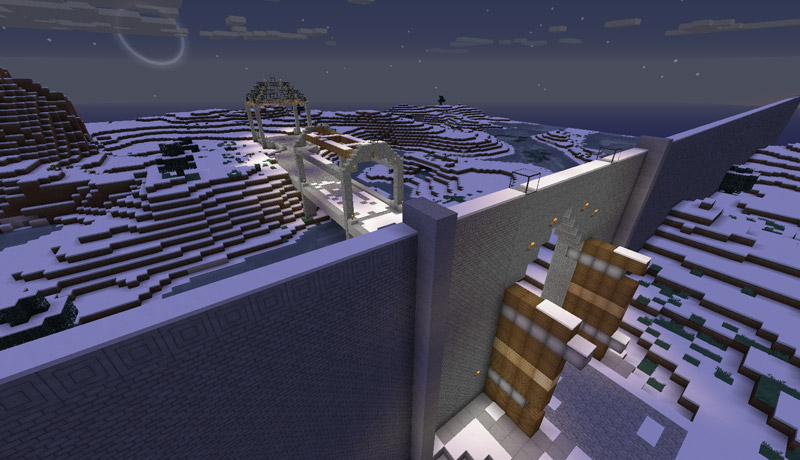 Datapedia – Will list important places, things, and connections to the Valice books.
VC Cast Page – The full cast of major and minor characters of all VC stories. It is dynamic and will count the number of comics each character appears in and their first appearance.
VC1 will post on Tuesdays/Thursdays starting next week. To those who know the story, it will take place during the waning days of the Terra-Force Empire. If that means nothing to you, then no worries – although it takes place in an existing universe, it will be a fully self-contained story that requires no prior knowledge of the Valiceverse.
Written by Gekko with some input by Meedee, who illustrated, VC1 will be a three act story that takes place in a beautifully illustrated sci-fi future, although tech talk is kept to a minimum. The focus will be on character development and interaction in a world familiar to our own, in a desolate tomorrow that is struggling to hang on. Join us and help us build a fanbase!
Meedee and I aren't ending our comic work. Valice Chronicles is a series coming soon that will tell side stories of the Valice universe, expanding its lore and characters. No knowledge of the books will be necessary as everything will usually be neatly tied up in one package in each story. Of course, you might enjoy these stories even more if you read the books.
Visit often to keep up to date, and we'll get a schedule and the first page up as soon as possible.